ZuluTrade (zulutrade.com)
Conclusion
ZuluTrade offers a copy trading platform where users can learn from top market leaders. With an easy sign-up, beginner-friendly resources, advanced trading tools, and a diverse community of experienced traders, it's an optimal choice for forex enthusiasts. Highly recommended for trading beginners.
Copy Trading Platform Score
ZuluTrade

Learning about the trading strategies of other top leaders can help you to have a better idea of how to navigate your way through this highly volatile market. And that is what exactly you can get from the ZuluTrade copy trading platform. You can follow and learn about trading strategies and ideas from leaders in the market.
Not just that, you can also use the different tools and features that this platform offers to get a competitive edge over others. With the help of trading signals and available of a wide range of currency pairs, you can make the most of your forex trading endeavors. So, what more can you get from this copy trading platform? Let's discuss some of the top features that help this platform to stand out from the others.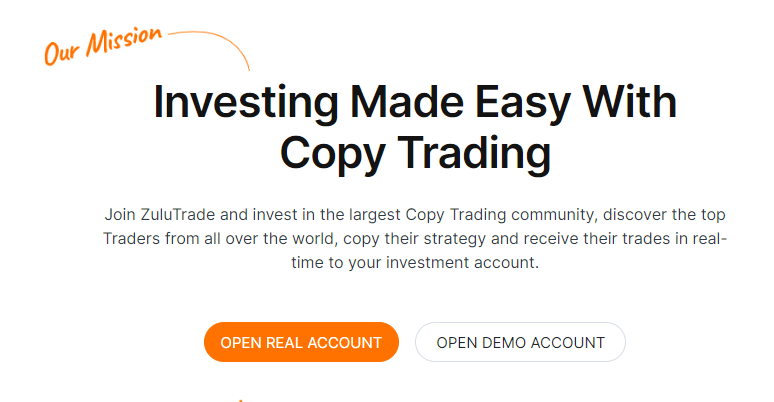 Easy Sign-up Process
Being an investor, you want to have a copy trading platform by your side that helps you get started without having to go through a lot of complications. A platform that has various technical processes and requires a lot of information would only take away more time and energy. This is something that the ZuluTrade process understands and allows you to get started with the platform quickly. All you have to do is provide a few details and it will create an account for you.
Once your account has been created, you can then easily log in with your credentials and move on to the next step which is following different leaders and learning more about their trading strategies. This entire process would hardly take a few minutes and then you can easily leverage this trading platform to your advantage.
Optimal Choice for Beginners
ZuluTrade understands how people who are just starting their crypto trading journey might not have an idea about how things in the industry work. They wouldn't be aware of the basic terminologies and concepts used in the industry. Apart from that, the high volatility and price fluctuations in the market would mean that they would find it difficult to navigate their way in the early stages of their trading journey.
That is why the copy trading platform gives them access to a wide range of learning material and resources, such as articles, blogs, and much more. It also provides beginners with complete guides so they can get started with the platform without going through a lot of hassle. By going through all the information and resources available on its website, you can also improve your financial literacy. It also has an amazing customer support team that is available for you 5 days a week around the clock to give you answers to your queries.

Benefit from the Wide Range of Tools and Trading Signals
The world of forex trading is rapidly evolving and changing. So, you need to have the right set of tools and features by your side that can help you understand the potential risks and losses associated with the trade. That is something that you can get from this copy trading platform since it will help you to understand the market dynamics. You can use these trading tools to enjoy a streamlined forex trading experience. The most critical feature is the pip calculator which leaders can use to understand the prospects of a trade.
This way, they can make well-calculated trading decisions. In addition to the pip calculator, you can also use the profit calculator to know about the potential profits and losses for a trade. Other than that, there is the economic calendar that you can find on the ZuluTrade platform. It includes all the major dates and helps you stay updated about the changes to expect in the monetary or economic policy throughout the year.
Community of Experienced and Professional Leaders
Last but not least, the copy trading platform has an amazing community where it has members from all over the world. They have years of experience in crypto and forex trading and have tested trading strategies that can help them get a competitive edge over others.
You can learn from their experience and get their opinion on the changing matters as well. Additionally, they can also guide you regarding how you can improve your strategies. With the help of their opinion, you can enhance your trading skills and take decisions that will help you grow your investment portfolio.
Final Thoughts
The amazing trading tools, features, instruments, trading signals, and diverse community makes ZuluTrade a top pick for forex leaders and enthusiasts. So, it is something that you should check out for yourself and then decide whether or not it would be suitable for you. I used this platform to trade forex and found it to be very helpful looking to start their journey in the forex trading realm.